Ahhh, delicious, seedless grapes.
Three years ago, Mr. Mac came home with 4 grape plants.
I don't think I was as excited as he was, because all I could envision was grape vines taking over the yard.. I killed two of the plants on accident.. I'm not kidding, it really was an accident.
The remaining two, Alan planted along our fence where they would receive full sun.
This year the vines really produced oodles & oodles of sweet seedless grapes, that give a burst of delicious*ness when you pop em' in your mouth.
Mr. Mac had a great idea to do some canning and make grape juice.
Well, I thought that was a brilliant idea... except, we had never canned before..
No worries though, my sister in law, Linda came to the rescue, and gave me a crash course on canning.
I was a bit late to canning class, but I did get to help with some plum and blueberry jam.
She is a good teacher, and might I add, a good Jam Maker . Thank you Linda ;)
So, Mr. Mac went out to the MacNaughtan Vineyard to pick the plump juicy fruit.
While Alan is wildly picking grapes, let me show you what I'm doing to the CRAZY and wildly growing vines.
I'm only showing you the top potion of the swing, because i have yet to sew a new seat cover... Linda, help???????????
Anyhow, our canopy went with one of the wind storms this past winter. One morning while I was training some vines, I had a light bulb go off. Wouldn't it be so cool to have an all natural grape vine canopy?
I can just envision a canopy of vines, leaves and bunches of grapes dangling down, and maybe even a strand of tiny white lights, as we sip grape juice (or wine) on a late summer evening.
This pic reveals how it looks thus far.
I am certain by next summer my vision will be enjoyed on a summer evening.
Some vines found their way, with a little help, around an old wooden ladder.
And, there is my good ol' girl Tessa, laying in her favorite spot.
Looks like Mr. Mac has picked all the grapes..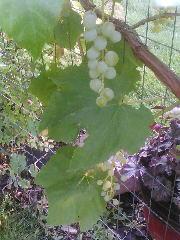 He did leave a few for the grandkids ;)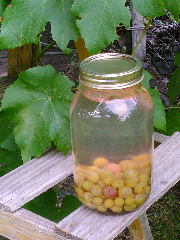 ,
And this is 1 of our 12 quarts of grapes juice..
Our first canning expedition on our own.
It was fun, and we have already been pondering on what were canning next.
I would love to tell you how it tastes, but we have to wait 1 whole week before we try it... I have never been patient about having to wait, but by gall I will try.
Well, thanks for stopping by and taking a walk through our little vineyard.
With the weeked
quickly
approaching, I'd like to wish a Splendid one :)