my creativity was really never lost, only misplaced...
I think outside????
Hmmmmmmm....




A few of my friends and collectors have wondered where I've been.
Have I given up on my creativity... my art ?
Well, good gravy no ! ... I could never set aside my passion, for good.

I have merely, just changed my canvas for a short while...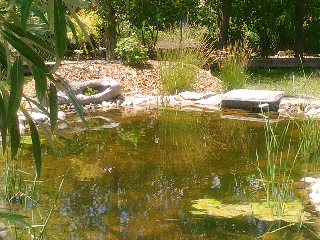 creating a paradise in our back yard alongside with nature, has also been a passion shared by both my hubby and I .
Alan started off with a flat, rocky canvas, that was once a huge creek bed many a years ago.
Now that the shape and form of the yard, and the waterfall, creek and pond is in, oh and did I mention over 30 trees ???
We can now start adding our shrubs and plants, adding bursts of color to the canvas.
Here is a view of my most favorite place in this whole wide world.
If you are sitting in the chairs you look across the pond into,
" Dianie's Cove".
It, is a lovely little cove my husband created just for me. It is equipped with beautiful aspen trees, with leaves that shimmer in the summer breeze. It boasts plenty of shade for an escape from the 100 degree weather.
A fire pit for romantic dinners, or a pot of campfire coffee early in the morning, while watching the birds by the pond.
I have loved this year with the creative process of our yard.
Though, we have many a perrenial to plant, and little details here and there, this journey has been wonderful and rewarding.
Thanks for coming with me for a little walk..
next time, we will venture into the cove for a little bite to eat..
see you then...
.