Do you all remember my Jayda bug? My colorful little granddaughter that stayed with me for 7 months.
She is a smart and inquisitive little dumpling.
When she gets bored she gets into mischief.
The key to this little story is, to keep her busy,busy and learning.
So, at barely 3 yrs, her daddy is teaching her how to master the trade of a Barber. Here she is giving her dad a buzz..lol !
A couple days a week i have the pleasure to keep this bright young child occupied.
Jayda and I went into my studio and her eyes lit up like magic! she wanted to touch, feel and know everything about the Witch ornie I was working on.
I told her that I still needed to make the Witchie poo a pointy Witch hat, and she said, "let's do it". So, I said, " well heckster's Jay bug, let's do it".
The little smarty pants is my NEW official Witch hat maker.
I told the young artist/designer, that after we painted and decorated the hat she could keep her for her Barbie.. she looked at me with a blank stare and said nothing..
Instead, with hat in hand she be*bopped over to the Witch and placed the hat atop her head.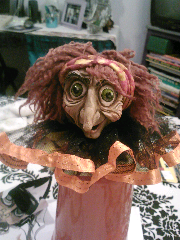 Mmmmmmm... You know what this means don't you?
Yep, I have a new partner!
I may have to change my biz name...
Dianie Mac & bippity*boppity*boo?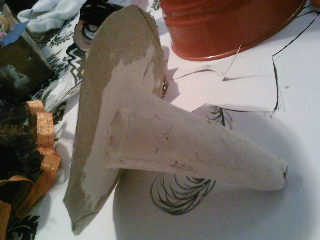 Oakie doak then,
On Monday Jayda will be spending the evening with me, and she will paint and decorate Witchie Poo's hat, (all by herself).
Then I'll add the hanger and she'll be ready for auction.
And since she's my partner, I'll be splitting the funds 50/50
after all, it's all about the Witches hat, and she's the hat designer , right?:)
Happy Saturday to you all, and may your weekend be simply splendid!