Hi there friends... Sure hope your enjoying this beautiful summer.
I must say, this is the first summer in a long long time that I have actually enjoyed being outdoors. See, I am a BIG whimp when it comes to extreme temps, whether it be cold or hot I tend to hibernate when it gets extreme. But this year I'm loving out in the yard.
Oakie doak, onto to business!
Well, I've been putting my studio together and I am LOVING IT!!!
I still have some finessing to do, but for the main part I'm ready to do some freakin art!!! Holy Cats, I didn't think the day would come.
I thought, I would share just a few peeks, but I'll save the big reveal for
Karen's from "My Desert Cottage" 4th annual
Where Bloggers Create
blog party.
Just in case you have never been to this blog party, it is a must see.
All these wonderfully talented bloggers/artist/crafters give you a tour through their studio..
So, anyhow.. I'm waiting to do my reveal at that time ;)
To find out more about this event and how to view the many fun studio's just simply click on the banner on my sidebar.
Alrighty, here is a peek at my new work desk.
It is so functional, and large. My love cut the back panel so we could both use the desk at the same time and gaze into each other eyes, OH, I mean work on our art project while sitting across from each other.
The desk is solid as a rock and has two huge drawers for storing supplies.
(More revealed July 14th)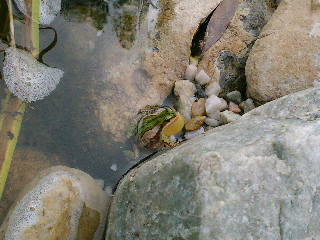 As I mentioned earlier I've been spending lots a fun time outdoors.
We have been designing and creating a sanctuary in our backyard for birds,wildlife and family to enjoy. So, while taking a break from the studio re-no, I sat outside by the pond with my love, and guess who was so curious to meet us.. Yes little froggy. Isn't he a sweetie pie.
We have frogs and polliwogs frolicking about everywhere..
I will share more about that later ;)
onto studio peeks,
some of my favorite one* of *a *kind art, from my dear artist friends, as well as a few of my pieces are displayed throughout my studio.. I am still looking for just the right window treatment..gosh guess I'd better get a move on it, times a tickin'
Yes it is.. It's mirror tile!
It was popular when i was a teen, and by golly just had to buy a case that I found at a second hand store .
I mixed it up a bit with cork board so it could be functional and purdy at the same time.
This little corner is meant for relaxing, reading and guests to enjoy a cup of coffee while visiting in the studio. It is not quite finished, but I hope will be a wonderful, cozy and inviting when done.
The response I've gotten over the mirror tiled wall from the younger crowd 20's-30's has been amazing. when they see it they freak out, and say they want a wall just like it.. I was surprised at how well they liked it.
I'm loving it too.
Oakie doak... that sums up the tiny peeks of the studio..
sorry they were such sneaky tiny peeks.
I hope you will check back July 14th for the real studio tour, with more pleasing pic's.
Enjoy your weekend!